For the last twenty-four years, I have hunted the opening-day weekend of the Tennessee dove season in the same place with the same people. Since junior high, my friend Trevor's dad Houston has put on a big wing-ding at his house. Friends from Louisiana bring crab, shrimp, and oysters for a Friday-night feast, and Saturday night after the hunt we eat barbecued ribs. For my core group of friends, the ones I love even when we're not on speaking terms, this hunt is the central ritual. Like the biblical Jubilee, the dove hunt ends all grievances, settles all debts. That's the way it has always been . . . until now. People grew older, moved away, died, and for the first time I can remember, the dove hunt didn't happen this year. Since I got the word, I've been feeling despondent and old. I haven't had much interest in writing or in anything else. My friend Raimey says nothing is static, and the Sporting Wife says you can't escape change; but I fear change, and in general, I am against it.
Raimey invited me to come and hunt the opening day of the Alabama season at Kirk's farm. R.J. would be there also, and it would be a chance for the Kansas-trip hunters to reunite after I had to skip last year for work reasons. I accepted of course, and I was almost as anxious to see my "new" friends again as I would have been to see the old gang, but I was still a bit down in the mouth. Preparing my things for the trip, I found an old metal folding chair in the garage. This was one of the chairs used at the Tennessee dove hunt and inadvertently brought home in the back of my truck years ago. I decided to take the old chair to Kirk's as a link to all of the Tennessee hunts.
The day of the hunt, we met in the field for barbecue sandwiches and cold drinks before legal shooting time began at noon. We all took our places, and both birds and lead were soon flying. I was using a side-by-side double that I'm not too familiar with yet, and for a while, I shot poorly. Everything seemed wrong. I don't think I could have hit the ground with my hat. As the afternoon wore on, however, I began to relax. I tried to put my depression about the "glory days" out of my mind and focus on the present. I started having fun, and while I didn't put on a Tom Knapp exhibition, birds were falling to my gun. Sitting on my metal chair in the blistering sun with a big stupid grin on my face, I didn't feel any older than when I went on that first Tennessee hunt. No, you can't escape change, but at just the right moment, you can stop time.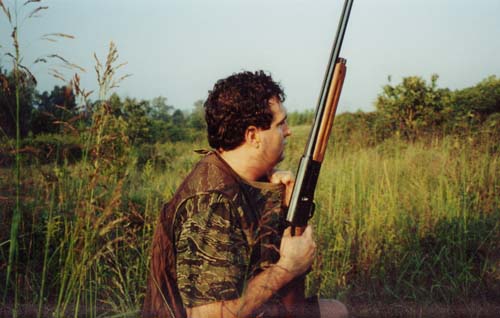 Waiting for birds to come over back in the glory days.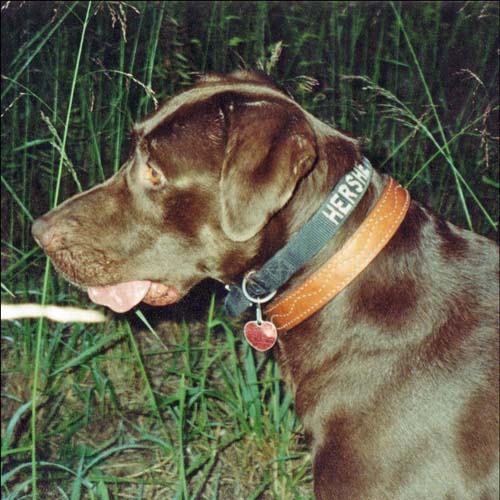 Hershey wants to see some birds too.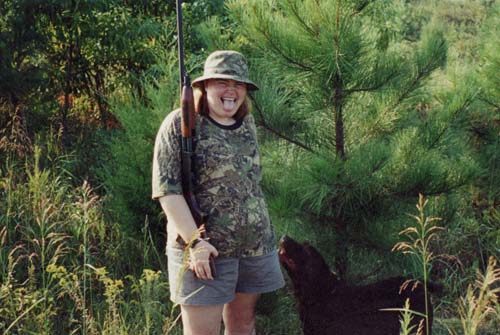 Apparently, dove hunting involves a lot of sticking out your tongue for Hershey and the Sporting Wife.