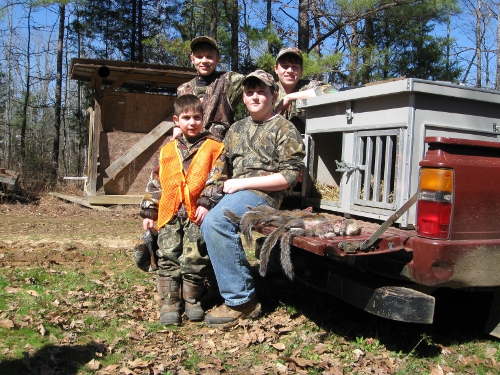 Clockwise from lower left:  Garrett, Bryce, Ford, and Avery.  Not Pictured: Cousin Tim, Tim the Guide, Kenneth, Judy, Jar, and the Armchair Outfitter.
I have often thought we sell small game short in hook-and-bullet literature.  Most of us started out hunting small game, but for some reason if it's not a deer, a turkey, or something bigger, it's not worth an article.  One of the best hunts I went on last year was a squirrel hunt at the close of the season.  It was the last Saturday, in fact, and I drove seven hours to Tennessee for a day of guided hunting with dogs.  Good Lord willing, I will repeat that same hunt this year.
Cousin Tim called me with the idea, saying, "I don't know if you'd be interested in coming all the way up here for this or not."  He told me he knew a fellow who was passionate about squirrel hunting with dogs, and if we put together a hunt, he'd guide us just to have a chance to go.   Our guide was particularly keen on the idea of bringing young people hunting.  Tim wanted to take his son Garrett, and he knew some other young men who might also come along.  Without a moment's hesitation, I said to count me in on the deal.  Squirrel hunting was the first hunting I ever did when I was kid, but as someone who grew up "in town" I seldom had the opportunity to hunt them with dogs.
In this case, the dogs were Judy and Jar, two fine representatives of the Original Mountain Cur Breed.  Mountain Curs are known for their courage in hunting dangerous game like wild boar or mountain lion, but they are equally adept at trailing and treeing squirrel.  The hunt began with breakfast.  I got to the restaurant before Cousin Tim, and I didn't know our guide Tim or any of the other hunters.  As we were the only folks in the tiny diner dressed in camouflage, it was obvious we were all headed in the same direction.  Tim the Guide had brought his nephew Avery, and Kenneth had his two grandsons Bryce and Ford with him.  Cousin Tim and Garret got there just as I was ordering my food, and we had a good talk before setting out for Uncle Gary's farm.
Our contingent was carrying a variety of arms, with hunters about equally divided between riflemen and shotgunners.  There is not sufficient space here for me to get into whether a .22 or a smoothbore is more appropriate for squirrel.  Let me just say that a mix of both is ideal.  Our guide began the day with a talk about safety which was directed equally at the younger folks and us old hands.  This alone convinced me we were in the hands of a professional and were in for a good day's hunting.  Tim the Guide explained that there was no hurry once the dogs treed because they would hold the squirrel until we were in position.  Riflemen would approach first with hopes of getting a good clean shot.  If the shooter missed or if the squirrel broke for cover, shotgunners could take the animal on the run.  This arrangement suited me about as well as I could imagine.
The day was sunny with a brisk wind, and we didn't have lots of opportunities, but we wound up with around a half-a-dozen squirrels between us.  This style of hunting, ambling through the woods on the trail of the dogs and conversing with the other hunters, is very agreeable.  I learned that Kenneth was a contemporary of the late, great Houston Thrasher, and we shared some stories about hunting with him, none of which can here be reprinted.
I hear about young people going on their first hunt for deer or turkey, and I can't imagine a worse idea.  The expectation and the potential for disappointment are so high with big game that I'd much prefer squirrel for a hunter's introduction.  We got a few squirrels, but we had a blast and shared some good fellowship in the process.  I'd drive any distance for the opportunity to do that again.