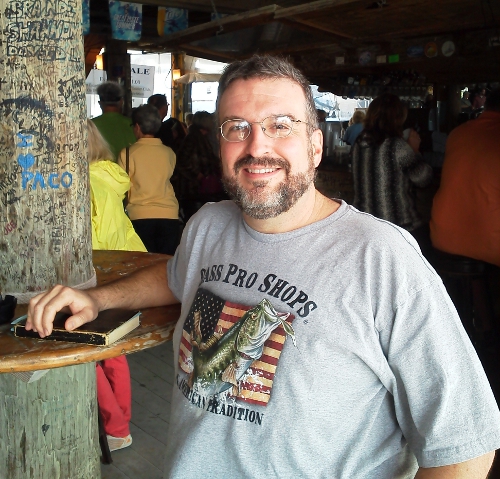 Well, here I am on a Sunday morning doing what millions of people do every Sunday, sitting in a bar.  Yes, that is my Bible in the photo, and no, I don't know who Paco is, so don't ask.  The bar in question is the world-famous Flora-Bama known for the mullet toss, bikini contests, and yes, Sunday worship.  This morning was the second time the Sporting Wife and I have attended Worship at the Water, an outreach of the Perdido Bay United Methodist Church.  We are sitting in the bar proper because there were so many in the main worship space that we could not find standing room.  You know how it is when you go to church of a Sunday and it's so crowded you can't even get a place to stand, right?  Yeah, me neither.
We knew to get there early, as the first Sunday we attended we arrived forty-five minutes before the service and many were already making their way to folding chairs.  Omelets are made to order for $7.50, and you also get a drink ticket.  I had a Bloody Mary on our first visit, and a fellow came over to greet me, shook my hand, and said he was glad we were there.  The Sporting Wife said, "I believe that was the preacher," and she was right.  Discipleship Pastor Jeremy Mount, in a "My Church is the Flora-Bama" t-shirt and cargo shorts, welcomed us into the fold.  We were only half an hour early this morning and we had waited too late to get our food and get a good seat.  At least we were not among the dozens still standing outside when the service began.
The setting may be all in fun, but the service is no joke.  Worship is a spirit-filled affair, with the Solid Rock in the Sand Band laying down a righteous groove on numbers from the "Honky Tonk Hymnal."  These are mostly standards my Mamaw would know by heart like "Blessed Assurance" and "Amazing Grace"  but if you have never heard a hymn with a harmony guitar solo in it, you really should.  Dress is casual of necessity; after all, we are in a beachfront bar.  Should you wish to be baptized, the Gulf of Mexico awaits right outside the back flap of the tent.  There is no passing of the offering plate, but there are brightly colored tackle boxes where you can make a donation to these fishers of men if you choose https://s..anada.ca/.
At the conclusion of the service each time we left to a rousing medley of "I'll Fly Away" and "I Saw the Light."  Jerry Lee and Hank would have been proud.  No one sings gospel like a sinner, because we know for sure we need Jesus.  Here's me with the sign out front just so you know I'm not making this up as an early April Fool's gag.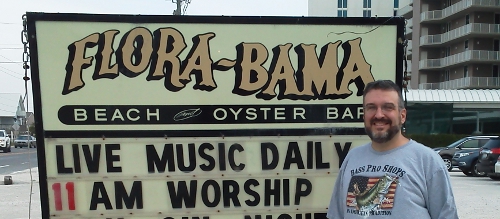 If all of this is not your cup of sangria, that's fine too, but don't knock it until you've tried it.  I was there this morning, and I can hardly wait to go back.  As some of their outreach literature proclaims, not everyone feels welcome in a church, but everyone feels welcome in a bar.  You can find more information here http://www.pbumc.net/templates/System/details.asp?id=30004&PID=690833 and here http://www.facebook.com/florabamaworship?ref=nf.