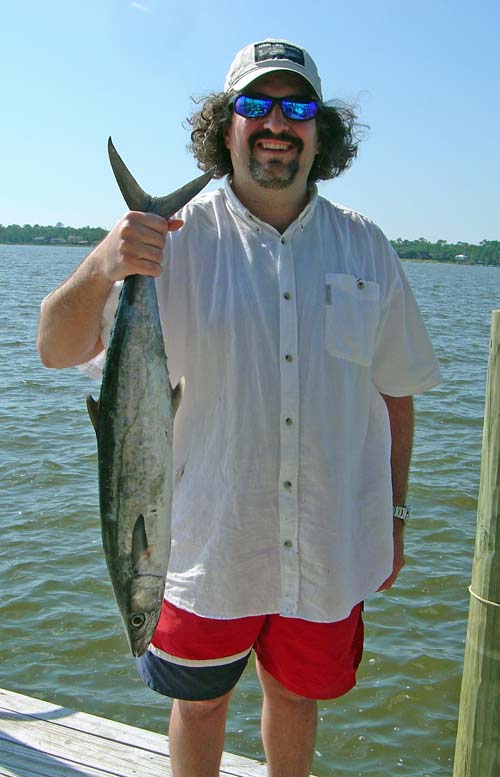 Regular visitors to this site (both of you) will no doubt remember a story about me shirking my responsibilities at a work function and slipping away for some redfish action after dark. That might have been just an isolated incident, but now a pattern seems to be emerging. I've been working on the Rover bull bar project in my free time the past couple of weeks, and by all rights, I should have been doing that this past Saturday. As you can see from the above photo, I was not.
My buddy Marty called me on Friday and left a couple of messages asking if I wanted to go fishing Saturday with his friend Charles. I've been out with Charles before on his gorgeous 25′ Grady White, and I know that Charles is a super-nice cat, so the offer was tempting. Unfortunately, I didn't receive Marty's messages until 23:00, and a marathon push to close cases had me scheduled to work until midnight. I told the Sporting Wife that I was going to have to blow it off and work on the truck as I had planned. Ever the responsible one, I am, but she insisted that I might not get the opportunity to go again for a while. She also observed that I had been grumbling and generally down in the mouth of late, and she thought it might do me some good to get away from the house. Translation: "You are working on my nerves, and you should get away from me for a while."
I am not the world's most intelligent man, but I know that when you have made enough of a nuisance of yourself that a woman urges you to go fishing, you go. Gathering my stuff and packing a cooler while watching the second half of the Lakers game on Tivo, I grudgingly set my alarm for 4:30 and hit the sack at about 2:30. I'll admit that if not for the elbow in my ribs at 5:00 as Frank Zappa poured from the alarm clock speakers, I'd never have made it.
Marty and I met Charles and his son C.J. at the boat ramp a little after 6:00, and we were under way. C.J. tried for some hardtail just off the end of a rock jetty, as they are like candy to amberjack, but he only managed one. We had live pinfish from Marty's backyard trap and some frozen squid, so we set out over calm water for the nearest of the rigs. Charles nailed the twin 150 Yamma-hammers, and we were seven miles out in no time.
Unfortunately, someone had beat us to this particular spot. Using a rig hook to hold position, they were pulling up one "endangered" red snapper after another. If you don't live on the Alabama Gulf Coast, just take my word for it that we have a huge controversy down here over the very restrictive snapper season and limits. We watched these folks catch and release ten good-sized snapper in as many minutes because it would have been illegal to keep them. The season opens today, and even then, they could only have kept two.
Marty caught a big remora that he managed to release without bringing it over the side. If you've never made the mistake of getting a shark-sucker in your boat, don't. They are relatively calm until they hit the deck, and then they go into berserker mode. Slime is not an adequate word to describe their skin secretions, and they bleed like stuck hogs as well. C.J. handily caught what today would be a limit of two nice snapper, and we decided that throwing a red snapper dinner repeatedly back over the side was for the birds. We hauled in the lines and pointed the boat toward Cuba. A pair of porpoises joined us, playing in our bow wake for a while. We were making pretty good time, and they were just loafing. I could hear their sighing exhalations over the engine noise as they exchanged stale air for fresh.
Starting about twenty miles out, there are a number of old Army tanks sunk to provide artificial reef habitat, and we decided to see if they were holding any fish. We set out trolling rigs to make a pass or two before settling down to bottom fish, and our efforts were rewarded almost immediately. I hooked into the king mackerel in the photo. Foul-hooked in the back with the rear treble of a diving plug, she pulled straight away like a nuclear sub, burning line off a medium-heavy rod and reel in short runs. It took me at least a half-dozen tries to get her into position for C.J. to gaff her. She was definitely legal, as we measured 28 inches to the fork of the tail, but I regretted keeping her later. Although outwardly there was no sign, when C.J. was filleting her, we saw that she was full of eggs. With the gash in her back from the hook, she probably would have been an easy meal for a shark if we had released her, but I still hate the loss of all those future generations.
The bottom fishing never materialized, as the fish couldn't leave the trolling lures alone for the rest of the day. We even caught one of the "rare" red snapper on a trolling jig. When a fish normally caught on bottom rigs with live bait takes a jig trolled at eight miles per hour, you are having a good day. We got two more kings, and we caught seven little tunny, locally known as bonita. These are the false albacore of the eastern seaboard, and they are reputedly not fit to eat. We kept six as an experiment. I am letting the fillets bleed out in an ice water brine in preparation for the smoker, and I shall report my findings. We went back to the bottom rigs at the end of the day just to see what we could get, but an undersized gag grouper for me was the only result. That potential entree went back over the side, and we headed for home.
I don't know when I'll ever get that truck finished.