MANDATORY DISCLAIMER: THIS ARTICLE IS PRESENTED FOR INFORMATIONAL PURPOSES ONLY, AND REFLECTS MODIFICATIONS THAT THE AUTHOR MADE TO HIS OWN PERSONAL FIREARM. THE AUTHOR MAKES NO REPRESENTATION, EXPRESS OR IMPLIED, THAT THESE MODIFICATIONS ARE SAFE FOR ANY FIREARM. THE AUTHOR RECOMMENDS CONSULTING AN EXPERIENCED GUNSMITH REGARDING ANY REPAIR OF OR MODIFICATION TO A FIREARM. SERIOUSLY.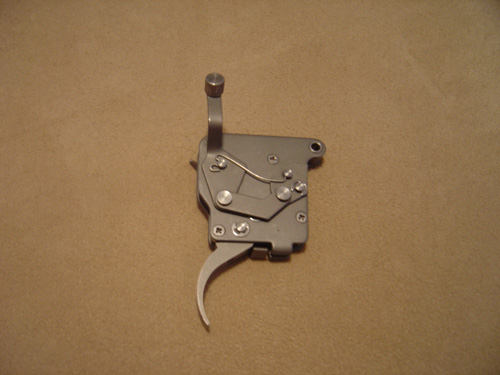 Here is the Jewell trigger out of the box. To remove the old trigger, after checking to make sure that the rifle was unloaded, I removed the action bedding screws located here: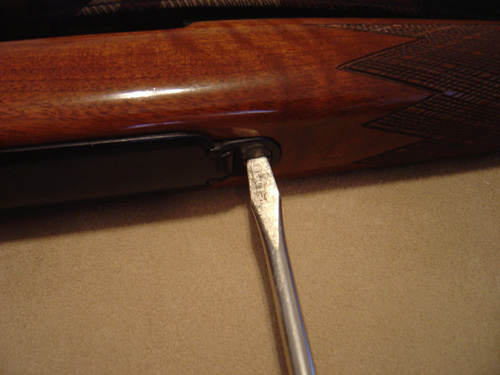 and here: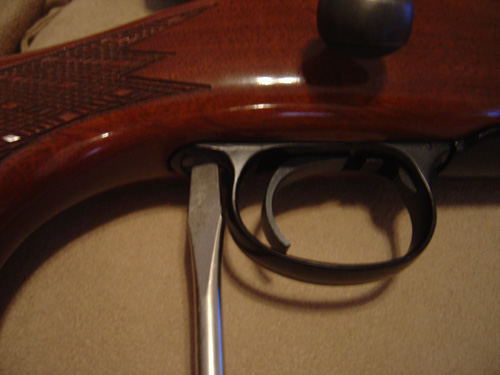 The factory trigger assembly looks like this. Note the amount of gunk built up on it. When I decided to replace it, the safety had become so difficult to operate that I had taken to hunting with the safety off and the bolt open. No amount of cleaning or lubrication seemed to make any difference. Mr. Jewell recommends using his triggers completely dry. If an occasional cleaning is needed to remove grit, he suggests using lighter fluid because it dries without leaving a residue.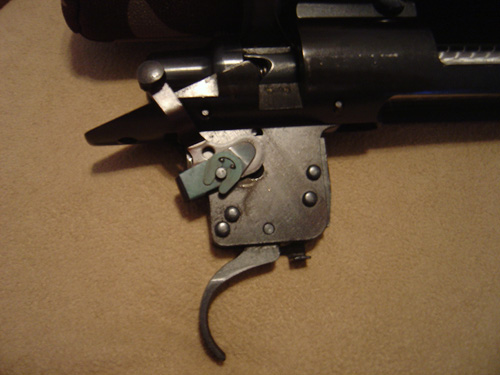 I looked carefully at the factory trigger, as Mr. Jewell's unit is a direct replacement. This means that everything should be in the same relationship when the new trigger is installed cialis commercial. There is a tiny spring on the opposite side of the trigger that provides tension for the bolt stop. Before removing the trigger, I studied this spring, as I had been forewarned that it would fly off when freed and was a doozy to get back in place correctly. As it turns out, I didn't study it carefully enough.
I used a brass punch to knock out the two pins,
and sure enough, that old spring sprang right off. I caught it, and I was feeling quite proud of myself until I started looking at it. It looked a lot different now that it wasn't under tension.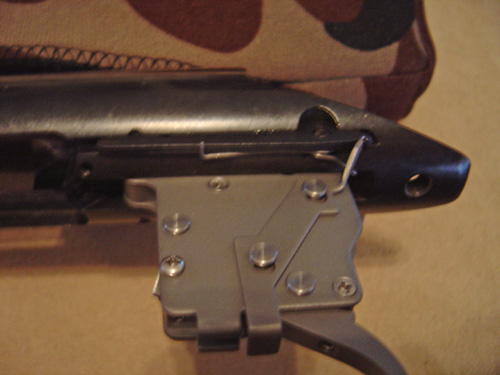 Here's the photo that could have saved me a good twenty minutes of fiddling. I actually had to find a similar photo online before I could complete the assembly. Other than that one small but important spring, the complete job consisted of knocking out and replacing two pins. And how does it shoot? After performing some safety tests with a snap-cap, I went to the range. I used a pet handload pushing a 110 grain hollowpoint to produce this group off sandbags at 100 yards.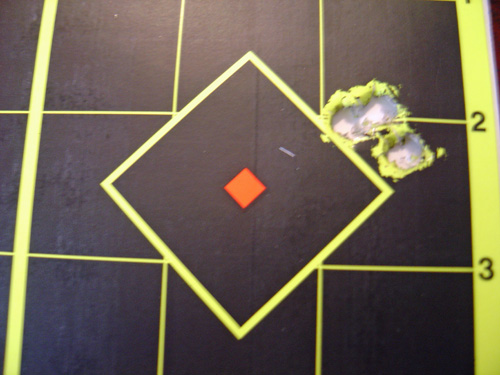 It measures 3/8″ between the centers and 5/8″ edge to edge. Folks, I don't shoot no better than that! Mind you, this was a 1 1/2″ gun at best before the trigger job, with 2″ being average. There is one peculiarity that I have to research. I noticed in the snap-cap testing that if I pulled the trigger with the safety engaged, the rifle would fire immediately when I disengaged the safety. I believe an adjustment to the overtravel screw will fix this, but I haven't had a chance to work on it again. This just reinforces the need for testing and familiarity with any firearm and following the NRA's basic rules for firearm safety:
1. ALWAYS keep the gun pointed in a safe direction.
2. ALWAYS keep your finger off the trigger until ready to fire.
3. ALWAYS keep the gun unloaded until ready to use.