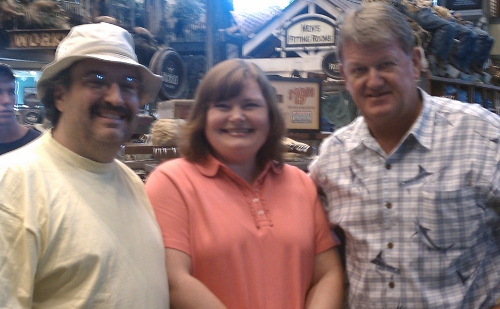 You may not know his name if you don't live on the Gulf Coast, but you know his work if you've ever seen one of us wearing "the uniform."  You know, Costa del Mar sunglasses, cargo shorts, shirt with a fish on the back, Crocs or flip flops, optional sun hat.  It may have occurred to you to wonder, "Who's the guy painting all these fish?"  He's that guy on the right in the photo, Guy Harvey.
While he does paint fish wonderfully well, his other pursuits also benefit those of us who love the sea and its inhabitants as Dr. Harvey obviously does.  The Guy Harvey Ocean Foundation funds research and educational programs to encourage marine conservation and best management practices.  Although I prefer linking  based solely on payola, if you'd like to learn more, here's Dr. Harvey's website:  http://www.guyharvey.com/  No promotional consideration was provided in exchange for this link.  Dang it.
This June, the Sporting Wife and I met Dr. Harvey at our local Bass Pro Shops in Spanish Fort, AL.  He was gracious enough to autograph and personalize pretty much anything for a long line of people, and the Guy Harvey Ocean Foundation pledged $1 for every sale of a Guy Harvey licensed product at our Bass Pro Shops that day to fund research and educational programs at the Dauphin Island Sea Lab.  I appreciate that the money stays right down the road, and I admire anyone who has so many irons in so many fires and still gives his time to a worthy cause.