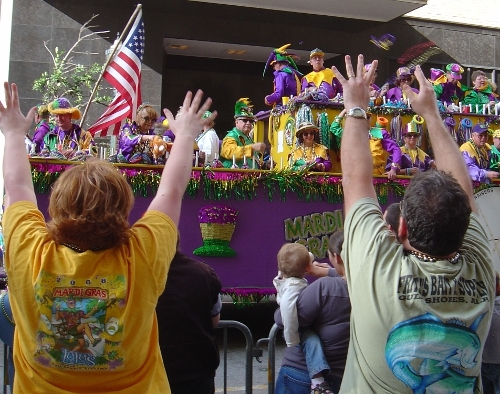 Beata T and I stretch for some beads in front of my office building, 2008.
10. You've ever heard of Joe Cain.
9. You know "Tahtacocktail" is a question.  "Tartar sauce or cocktail sauce on your po' boy?"
8. You've ever coordinated your tie with a 17-cent strand of beads.
7. You put an entry on your time sheet for "review parade schedule."
6. You don't even think about parking downtown any weekend the month before Lent.
5. You have used beads as packing peanuts for an office move.
4. You bring an umbrella to work for catching throws.
3. You have injured yourself diving for a Moon Pie on your lunch break.
2. You  are vaguely aware a city in Louisiana does something this time of year too.
1. You expect to be off on Fat Tuesday, 'cause everyone else is.