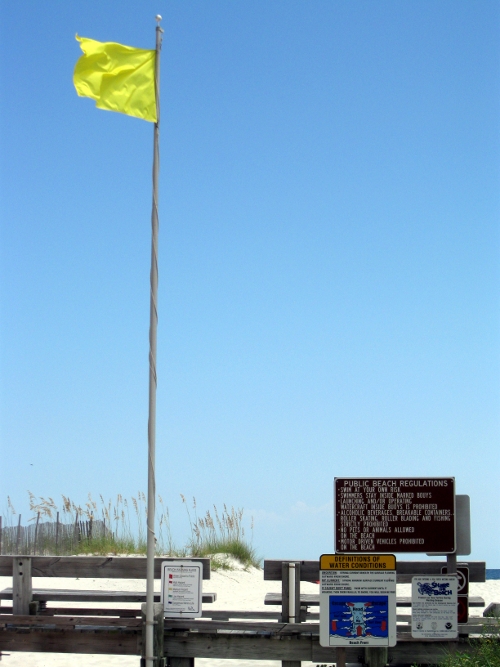 photo by Sweet Jane
It's been a while since I wrote or posted anything to the site.  In fact, it's been a lot longer than I knew until I checked in last week and realized almost an entire summer is gone.  With the Deepwater Horizon oil spill dominating the news down here, that's exactly how it feels.  The summer just disappeared.  The effect on our beaches here in Baldwin County hasn't been that bad, considering the nightmare scenario that could have been, but the effect on the local economy has been devastating.  Speaking for myself, the whole situation has exacted a mental toll as well.
Most areas have been open to catch and release fishing for weeks, but I have not fished.  The beaches are open, but I have not been snorkeling.  The seafood is inspected and certified safe to eat, but I have not visited my favorite restaurants.  Unconsciously, I've been avoiding anything, including this site, that would remind me of the reasons I moved here.  White sand, blue water, and abundant marine life somehow become tragic when you realize how fragile they are.  Sure, I know about hurricanes.  We've been through some historic ones since we've lived here, but this was different.  Hurricanes destroy the works of man, but nature remains unchanged.  In this whole debacle, we very nearly destroyed something we did not create and could never replace.
The yellow flag recently flying over the beach indicates "Medium Hazard."  I'm glad to see the cautionary yellow instead of the double red flags meaning "Water Closed to Public" that flew far too long this season.  I'm "cautiously optimistic" as our politicians are so fond of saying.  Catch and keep fishing opened again at 6:00 this morning for the first time all summer.  Anglers at Gulf State Park Pier in Gulf Shores are catching bluefish, flounder, and sharks where only a week ago a significant amount of oil washed ashore.  Watching the footage of people filling coolers with their catch on the local news, I am feeling the itch to go down there and try my luck.  "Hope springs eternal in the human breast," said Alexander Pope, and I am hopeful that if we have not seen the end of this, we have at least seen the worst.