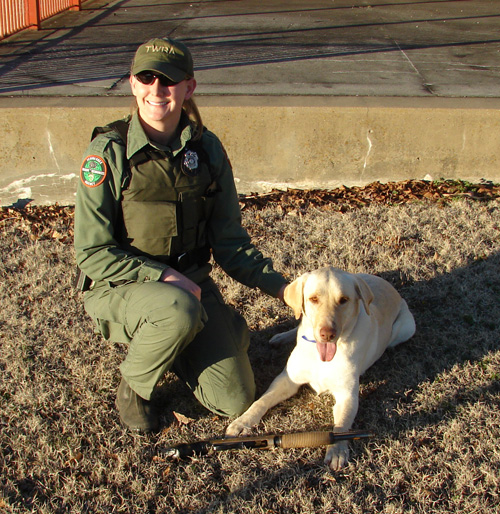 Madison County Tennessee Wildlife Officer Amy Snider and her K-9, Jake, made an incredible find at the end of December. Investigator Buckley with the Jackson Police Department contacted Officer Snider and requested assistance in searching for a gun used in a robbery. The robbery suspect was in jail, and the investigators had recordings of phone conservations revealing the general area where the suspect had "ditched" the gun at the time officers served a search warrant. The investigator and several police officers had done a thorough search of the area, but they could not find the gun.
With approval from the TWRA Area 11 supervisor, Brian Thompson, Officer Snider and Jake headed to the search location. Within 20 minutes of searching, Jake "alerted" on the gun under some thick cover along a railroad track. Jake had found a .410 sawed-off shotgun with the serial number filed off. What makes this a remarkable find is that the gun had been there for 17 days and the area had received 4.85 inches of rain. A total of 8 charges from the Jackson Police Department and 2 charges from the BATF are pending.
Ed. note – Frequent contributor Jim Overman sent in this story and I couldn't help but run it. Now that's a "Gun Dog." I understand Jake was so proud of his trophy that he didn't want to give it up after the pictures were made. I wonder if he could find me a Westley Richards?