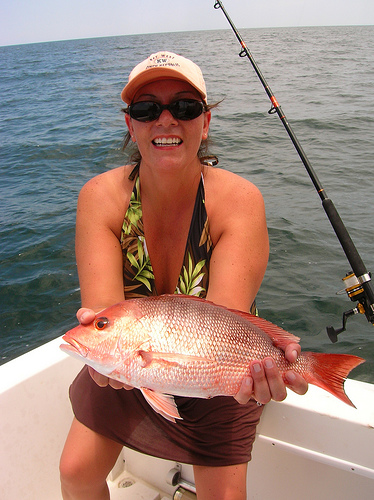 - by Melody in Orange Beach
Went snapper fishing on a hot Tuesday in early July. Our first attempt at fishing
on a 23′ Contender was for tarpon that have been rumored to be running
along the beach; no luck there. We did, however, witness several leatherback
turtles and some Ridley's turtles scoping out the beaches for egg laying
possibilities. We finally decided to go to a spot 12-13 miles out for some
snapper.
SUCCESS!! We caught a few keepers and some smaller fish that we threw
back. This is the first snapper I have caught in all of my saltwater fishing
experiences. Snapper put up a good fight, pound for pound. We were using
medium tackle so we would be less likely to injure the fish if we had to
put them back. I would definitely recommend a snapper trip to anyone who has
a chance!!!
– Melody