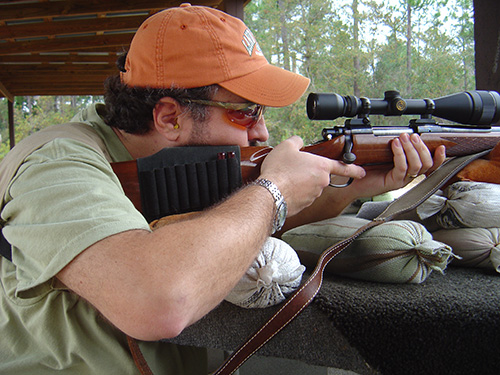 I shoot a Remington Model 700 in .270 Winchester as my primary rifle for deer-sized game. It was manufactured during the 1980s, and it came from the factory with what some folks refer to as the "lawyer trigger." This trigger was foisted on the consumer in response to some litigation Big Green was facing due to accidental discharges of Model 700s. To say that the trigger pull was set somewhat heavy is to say that an root canal with no anesthesia is somewhat unpleasant. I never put a trigger pull gauge on the thing, but if my Glock trigger breaks as advertised at 5 pounds, then this one was somewhere north of 10 pounds. The trigger is technically adjustable, but the adjustment screws are shot fill of Loctite, and I've been told that most of the time, the brittle screw breaks off in the thing if you don't get all the Loctite out of the way before fiddling with it. Thank you, brothers and sisters in the legal department.
Rather than a trigger "allegedly" designed by fellow lawyers, I thought I'd install a trigger designed by Mr. Arnold Jewell. Those of you who are competitive benchrest shooters may skip the rest of this paragraph, because you are already familiar with Mr. Jewell, and you probably own one or two examples of his work. Mr Jewell was an aircraft mechanic and pilot who had the notion to design a trigger inspired by the geometry of the drag link in an airplane's landing gear. This peculiar geometry allows Mr. Jewell's trigger to be adjusted down to pull weights measured in ounces without affecting the inherent safety or function of the trigger. For years, there was a waiting list to get a Jewell trigger, but today you can get one the same way I did.
Jewell triggers are now available from retailers like Midway, but when I got on their website to order mine, they were on backorder. Patience is a virtue, but it ain't one of mine. I started doing some research, and I found a telephone number for Jewell Triggers, Inc., in San Marcos, TX. I called the number, (512) 353-2999, and I spoke with a gentleman who may have been on the floor in the workshop itself for all I know. There was a radio playing softly in the background. A recorded message I received on a previous call had explained that they were gone to lunch. I told him what I wanted, and we discussed the proper trigger pull weight for me. He couldn't give me an exact total for the shipping, but he gave me an estimate, and a date when I could expect the trigger to arrive. As this date was the same date that Midway indicated they'd have their triggers for shipment, I provided my credit card information and sealed the deal.
In the end, I saved a little green over retail, and I got my trigger faster. The most valuable part of the experience, however, was discussing the trigger with a man who knows them. I originally told him that I wanted the trigger set at 3 pounds, and although he wasn't pushy about it, he advised me that 3 pounds was the maximum on the trigger model he was recommending. I described my experience level and my dissatisfaction with the factory setting, and he said that he felt that 2.5 pounds would give me better accuracy and, with practice, would still be heavy enough for a hunting trigger. The Jewell trigger is fully adjustable, so I agreed to the change from my original specification.
The trigger arrived on the promised date packaged in a white cardboard box. The packing material consisted of two crumpled pages of the Austin American-Statesman, Section C, the sports page. Enclosed were complete mechanical diagrams of the trigger's patented design and instructions for adjusting sear engagement, overtravel, and pull force. A copy of my receipt is signed, "Thanks, A." I can't prove that Mr. Arnold himself signed that receipt, but I like to think he did.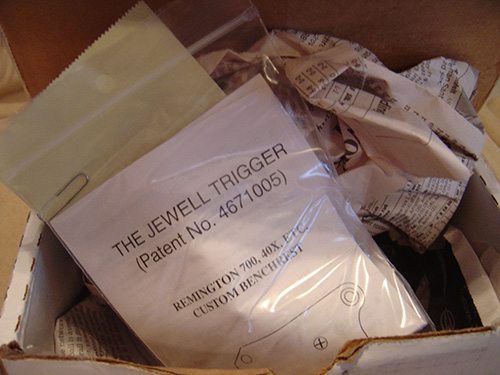 In the next installment of the story, I install the Jewell!